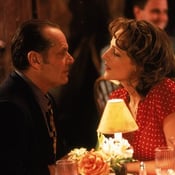 I've quoted this As Good As It Gets before, but never from this perspective.
Sometimes salespeople look at prospects with the wrong set of eyes. In each of these clips imagine Helen Hunt as the salesperson and Jack Nicholson as the prospect.
"All I want is a normal boy friend." it doesn't exist.
Sometimes, you need to ask a really tough question and if it's the right question, it will probably be very difficult for your prospect to answer, but when they answer it, you will be able to see their soul. Helen Hunt states her question, but it works. Watch.
In the end, the salesperson needs to truly understand the whole prospect and change the way they look at them. In order to do that they need to shut up, open their minds and listen to the prospect answer the question.
Here's three quick points.
In order to change what you see, you need to change the way you're looking.
There's a turning point in every conversation. Be cool. Don't get excited.
When the right question has been asked and answered, your prospect will drive the process.
I have several articles on questions in the archives. If you'd like them, let me know.
If you'd like to spend some time developing questions that work in your world and/or your question asking skills an demeanor, let me know.