Updated for 2019!
I was talking with a marketing agency owner today about one of their prospective clients. The agency owner was talking about the benefits of Inbound Marketing. He was calculating conversion rates. Figuring the ROI. Doing the math. Planning on doing the calculations to tell his (hopefully) new client how many views, blog posts, clicks, landing pages, forms, CTA's, yada, yada, yada. Look at this graphic. Dale Berkebile created this graphic a while back to help people visualize the steps that someone takes as they move from searching to buying.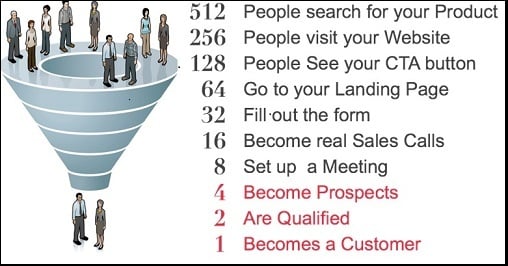 < Inbound
< Online Referral (Flywheel)
< Evangelist's Introduction (Flywheel)
Did you notice that Dale designed this with the prospect doing the work? They search. They visit. They see. It's truly designed for Inbound Marketers. I've used the graphic many times to establish the mindset. OK. So, this article's not really about inbound marketing.
I use it for another reason. As you know, I've been a fan of inbound marketing for a while, but I've never suggested that inbound marketing is all that you need and Dale's funnel (nice ring, don't you think?) can actually be used to depict your entire sales funnel.
Look at the examples to the right of Dale's graphic and think of these scenarios. Pretend that you build a landing page that was aimed at salespeople that wanted to be sales rock stars. Pretend also that somebody reads this article, clicks on the landing page link and forwards it to his friend with a note that reads, "You should check this out!" Look at Dale's graphic. If these numbers are accurate, your chances of closing your reader's friend is 1 in 64, 8 times better than the inbound searcher that starts at the top of your funnel. Now, think about what happens when one of your happy evangelists sends a referral your way or you ask for and get one. The referral doesn't have to search, find, see, land or fill out a form. Using Dale's funnel, you've got a 1 in 16 chance of closing this customer, which is 32 times better than an inbound searcher. Now, notice that both online referrals and evangelist's introductions are inbound.
Here's my point. Definitely get started with inbound, but don't forget to have welcome signs at other points in your funnel! So, fast forward to now and check out this offer!