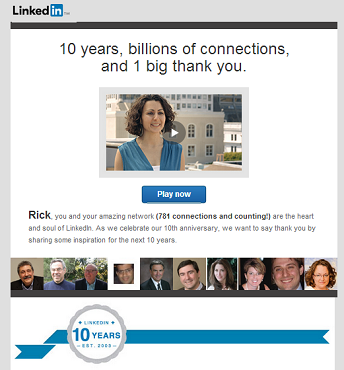 Today, I received an email from my friends at LinkedIn. I didn't write about the one that I received a few months ago about having an active profile, but this one was different. Yes they thanked me and made me feel all warm and fuzzy. Yes they stroked me and told me how important I was, but the thing that was different is that they want us to share our dream and how LinkedIn fits into chasing that dream.
So, let me share. I've written a lot about how important LinkedIn is to me. How I use it. I use it not only to grow my practice and network, but also to grow my clients' practices and networks. IMHO, it's the most important piece of business software that I use. It's more important than Hubspot, Salesforce.com, even Gmail and the other Google products that I use. I could replace my mail, calendar and address book programs. I wouldn't like it, but I could. How could I possibly replace LinkedIn? I could use it to start a business or start over?
So, LinkedIn has asked us how we are inspired and what we are inspired to do? I am inspired to help a few who are inspired become true sales rock stars. It's that simple and I hope that I can continue until I get another thank you from LinkedIn.
Are you inspired? Want to know where to start?