Another true story ripped from everyday life.
A former client visited us at Goose Rocks Beach recently while Matt & Melissa were here. I was pretty sure that they had met before, but I re-introduced them anyway. My former client immediately told both of them something like ,"We met when I was at _______ and I contacted you to find out if we were a fit. I'm not there any more. I'm at _______." None of us were working, but sometimes you just can't help but notice.
Did you notice that he told them about himself? Did you notice that he didn't ask any questions? How many salespeople do that every day? Why didn't he ask something like, "Matt, do you still own SLC Bookkeeping? Melissa, Inbound Design Studio, right?"
I didn't say anything to anybody. This is what his coaching dashboard looked like and apparently still does.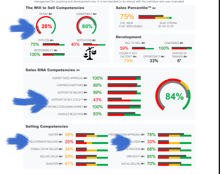 Sometimes you have to hold your tongue. So, strong. So much potential. So much being left on the table, but I can't help until he asks. BTW, do you wait for your prospects to ask for help?