As you may know, Pete Caputa and I did some reminiscing and sharing at Sales Accelerators last Wednesday.
Our conversation was easy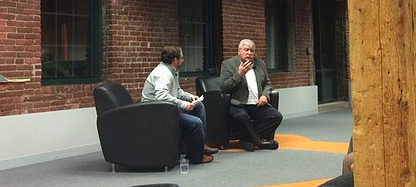 as Pete led me through my years selling Cutco Cutlery, meeting Dave Kurlan and a lesson that proved that people are waiting to buy. We talked about me selling furniture and eventually starting my 20 year stint as a bill collector. Pete was really good at asking questions and making sure that the story ended with a lesson.
I shared a story about the way I built my blog following in 2006. One attendee followed my process to a "T" and the resulting article has had nearly twice as many views as his most popular post EVER and he also has several new subscribers and the article got more comments than all other posts combined.
That's a good example of being ready and taking action.
A little later, we talked about how important referrals have been to me and the relationship between referrals and Inbound. I did a role play that showed how I ask for referrals. I then said this.
"Everybody write this down. R-I-C-K--- R-O-B-E-R-G-E.com. That's my blog."
"Look at the right sidebar and click the link Contact Rick."
"Don't fill out the form! If you do, I'll call you every day for the rest of your life."
"Find the Schedule a Call link at the bottom of the page. Use it to schedule a call with me."
"Everybody that does that this week will get a call from me and the call will end with me giving them a referral."
Guess how many people did that! Over 100 hot shot salespeople in the room. I told them how to get on my calendar and get a referral from me. Over 100 salepseople. How many of them followed the directions to get a referral?
One! Christine Rossi went to my blog, clicked on Contact Rick, and scheduled a call. We talked at 10 AM Friday. I asked her about her customers. How she works. How she finds her prospects. She told me about searching business journals, doing searches on LinkedIn, sending lots of cold emails, making lots of cold calls and dealing with lots of No's. I told her how I used LinkedIn to get warm introductions. At the end of the call, I told her who I would be introducing her to and why. She thanked me and we headed for the weekend.
Christine sent me this message. " Rick, I can't thank you enough for taking the time out of your busy schedule to speak Wed. & more importantly for chatting with me this morning. I am so appreciative of the prospecting tips and can't wait to see what comes of it! If I can return the favor in any way...please don't hesitate to ask "
At 2:20 Sunday afternoon, I sent an intro email to Christine and my referral that ended with, "Can I leave the rest to you guys?" At 4:10, my referral replied, "Sure. Christine, If Rick says we should talk...we should. I will be around all day tomorrow. (and gave his direct number)."
So why was Christine the only one? Do we only pretend that we want referrals? Did everybody else think that I had an angle? Seriously, follow the directions = get a referral = No Thank You?
OMG!
So, here's the question. Do you miss opportunities? Can you follow directions when they're right in front of you? Do you doubt? How does all that affect your prospect's attitude toward you?
Would you like to experience how I coach someone? Book a free coaching call, then share this post with every salesperson and business owner that you know.