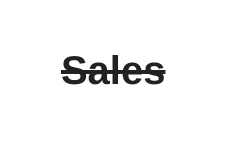 Are you in sales, bizdev, success, or otherwise concerned with the acquisition of or retention of customers? Have you read any sales books, attended sales courses or sales training? Have you noticed any 'blah, blah, blah, SOS'?
Have you been paying attention? Have you noticed that your customers know your tricks and moves better than you and that they don't like it?
Have you noticed how much noise there is on LinkedIn? Almost a billion salespeople trying to hawk their wares to the other salespeople?
Do you recognize any of these questions/answers?
Budget? None of your business!
Ultimate decision maker? They don't talk to salespeople!
Proposal. Revision. Proposal. Revision. Proposal. Hide!
Late for appointments or just no show?
Discount? Hide!
Sales process? Ha. Ha. Ha. Ha. Ha. Ha. Ha. Ha. Ha.
Which comes first?
Salesperson says, "Prospect is uncooperative and lies"?
Prospect says, "Salesperson is uncooperative and lies"?
Is anybody listening to anybody? ....or are they listening well enough?
True story: 2 weeks ago a CEO read this article on LinkedIn and told me " read the article this morning thank you! Told the sales team start calling ppl that have ordered from us in the last couple weeks for referrals. We have a young sales team that I am struggling to manage properly as this is my 1st rodeo managing a sales team. We have always been spoiled with organic growth over the past 20yrs but the enviroment has changed dramatically over the past 3yrs."
I replied, "uh-oh tell them to stop asking for referrals. Never use the word "referral". Stop selling anything. I know that seems crazy, but I never use the word "referral" when I'm talking with my client. Rather, see if they know somebody that 'might want to know me'." I also shared a link to 21 sales core competencies.
He's been at it for 20 years and now can't deal with the new world.
Sales is a dirty word. Sales tricks and tactics are a reason not to trust. If you're not trusted, you get lies and half truths. Here's the killer. One little slip that suggests that your prospect shouldn't trust you and you're done!
You need to make your quota? Good bye.
The discount's going away? No problem.
You won't answer my questions until you talk to the decision maker? I'll talk to your competitor.
You are not a person. You are a salesperson! A low life! You want my money and you'll deliver as little as you possibly can for it.
How's that for a starting point?
May I share three things?
20+ years ago, I was a bill collector. I met with a prospective client and when we were just about done, I asked, "So, what do you think?" They answered, "I know I was sold. I just don't know when."
That was probably the highest professional compliment that I've ever been paid. No tricks. Two people, talking, asking, answering with the end being, 'Problem Solved'.
I mentioned 21 sales core competencies above. Those 21 core competencies are actually composed of 250+ components. Very few of which include the word "sales". Beliefs, customs, habits, hangups, DNA, strengths make up most of the attributes. Think about the number of combinations.


Are you ready for the new Roberge Sales Method?