I don't remember writing about this before, but I hear it often and it happened again yesterday.
A rep read an article on Hubspot and booked a call on my calendar for next Wednesday with the following agenda "Sales coaching intro".
He had initially reached out the Saturday before and I asked an easy question.
He answered at 11:02 AM on Monday to which I replied and offered a link to my calendar.
At 12:17 PM, he replied, "Working on that now. It's a busy week so I am looking at my calendar now to find a time where I can make this a priority. Thanks Rick".
Yesterday, morning I asked, "Did you change your mind or decide to go in a different direction?"
He scheduled the call 2.5 hours later.
---
Can you tell that he might be out of control?
Why did it take 3 days and a reminder to look at his calendar?
Why couldn't he find less than a week out?
So, when I saw the booking, I asked, "Is it OK with you if I send a few questions that might make our call more productive?"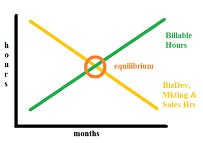 To which he replied, "Feel free to send them Rick. I'm alternating between too busy to breathe and nothing in the world to do, I'll do my best to answer promptly."
Bingo! I talk to most of my clients several times/week. How's he gonna do that?
First, we need to help him take control.