Last week, I wrote Summers, Recessions and Business Growth. The next day, I wrote Friends of Friends Can Be Prospects.
Over the weekend, I read Small Business Lessons From A 100 Mile River Trip and this morning, I read Small Business Lessons From My Goldman Sachs Cohort by the same author.
This morning, I received this message through LinkedIn.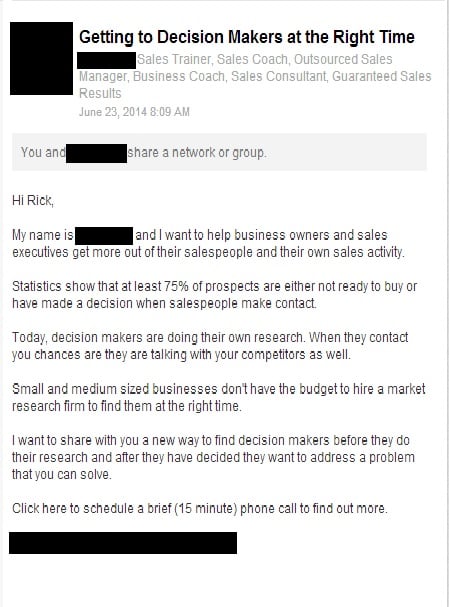 I replied, "I don't like spam." and I reported it as spam to LinkedIn. He was polite. He spoke truth. He was trying to be helpful, but he was very 20th Century and his message was spam. I may be a jerk for reporting him to LinkedIn, but as long as people send messages that are ineffective, we will continue to get spam.
I thought that you might be interested in this screen shot from my Hubspot portal.

Why is it relevant? No emails sent means no spam sent?
This morning, I coached a business owner on how to craft a LinkedIn message that would not be flagged as spam. I also coached a salesperson on the CEO that needed to talk to his wife and the three P's of a buying decision.
So, what's my point? I spend all of my working time with small business. IBM can (and does) call somebody else. Small business people, like the ones that Matt and I write about are real. They're interesting. They're passionate and at this time of year, they can be struggling and need some help for a little while. If this sound like you, check out INDEPENDENCE DAY and It's Impact on New Year's Eve!