I could have titled this, "Apps I use every day."
Evercontact is a new cool app that's like having an administrative assistant to keep your address book up to date. It can also help me keep you up to date with my contact info.
This is my new email signature.
Rick Roberge
Call 207.619.3516 or schedule a call.
Find me on LinkedIn and Twitter.
[+] Add me to your address book
If you click on the "Add me" link, you'll be brought to this page. Isn't that cool? You can add me to your address book with one click. You could also get Evercontact for free for yourself. Enjoy.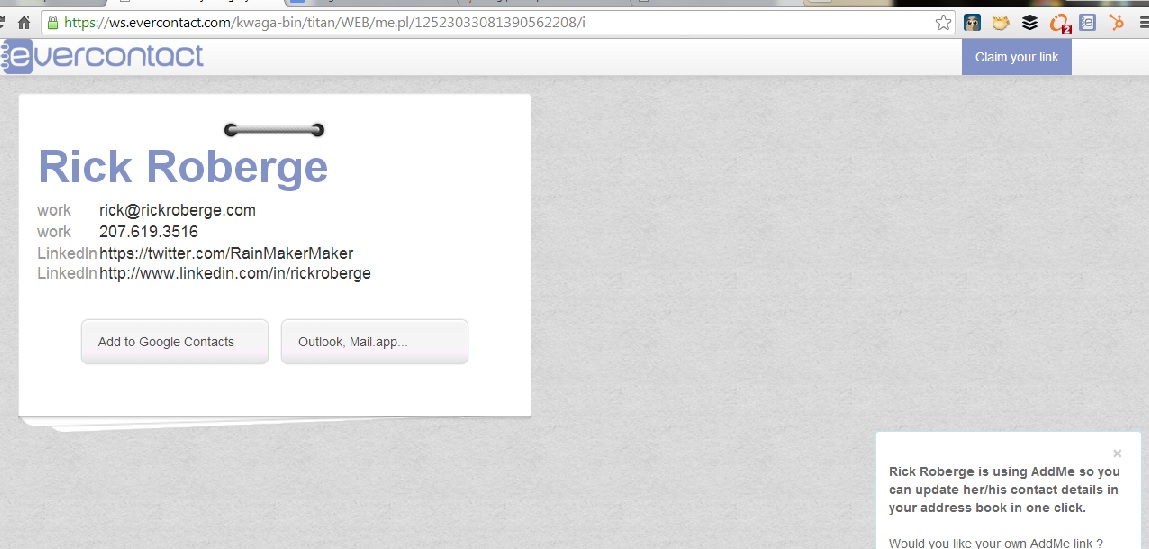 If you noticed, I have a new phone number. That's because my other cool new thing is Google Voice.
I don't like using my cell phone when I travel internationally and I'm about to. So, I went searching for a solution. Google Voice does a lot, but it does three things for me.
If you were to call my Google Voice number right now, my phone would ring. Which phone? I have my cell phone, my home phone, my office phone and Elaine's phone all connected to my Google Voice number. I can set it so that any or all of those connected numbers will ring. Any or all! Cool!
If I didn't answer the phone, I have it set so that you will be sent to voice mail AND, Google Voice will send me an email with a transcript of your voice mail and a link so that I can listen to your message the old fashion way. Also cool!
When I make a call using my cell phone, I can choose whether to use my cellular service to call (like normal) or I can use Google Voice to call over the internet and not use my cellular service when travelling internationally. Bonus cool!
So, those are my two, cool, new apps that I use every day. If you're not already using Signals, LinkedIn, Hubspot and Rapportive, is it because you're retiring and no longer interested in being productive? Do you have a favorite tool or experience with any of these? Let's see it in the comments. If you want to talk to me about these tools, use another great tool youcanbook.me.