Whether or not their company buys it.
Two years ago, I wrote an article that reflected on the way that I worked in the 80's, 90's and early 2000's and what I would do differently today. I decided that I wouldn't make cold calls or knock on doors. I probably would network face to face and use LinkedIn to grow my online network. Then merge the two.
A while later, Pete Caputa wrote an article that suggested three necessities to succeed in sales. Since then, many have written about the importance of salespeople developing a personal reputation and have suggested that 'thought leadership' type articles elevated a salesperson from the vendor status to trusted advisor status more quickly. Now, you'll find salespeople writing on LinkedIn, their blogs or even in forums like Inbound.org.
One more point...
Some salespeople show up to a job. Some have a career and some think of themselves as a business. I meet a lot of salespeople and I've noticed that the further along that continuum they are, the more likely they are to be doing extra, leading the way, going above and beyond and making more money.
So, I looked at Hubspot's pricing page. It looks like a salesperson would need to invest about $3,000 in the first year to use Hubspot. I think that whether or not you want to invest $3,000 depends on whether or not you want to do the things that we've been writing about and how much you're gonna make.
Look at this table.

Follow my logic. If you work 2,000 hours/year and earn $100K, your time is worth $50/hr. Hubspot would need to save you 60 hours/year (5/month) in order to allow you to sell another $3K to pay for Hubspot. If you're going to earn $250K, you'll only need to save 2 hrs/month to justify the investment in Hubspot. Remember, I'm not talking about a business, with employees, payroll, equipment, etc, I'm talking about you and whatever you sell.
So, how can you save 2 hours a month?
How often do you do a mail merge using Outlook, Office, or whatever else you use? How many people in your address book? 100's? 1,000's? Type the email. Pick the group of recipients. Send. How much time would that save?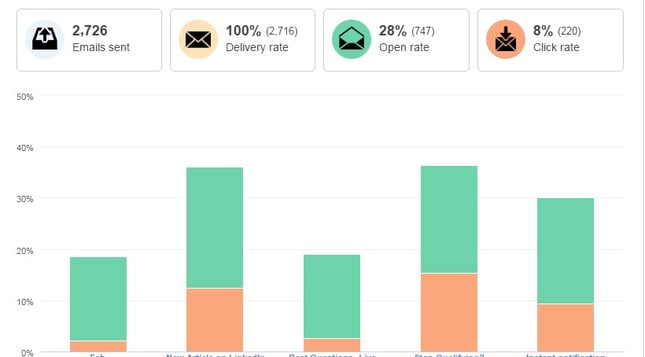 How about blogging? Do you? Is it a pain to compose, format, send? How do you know how many people read it? Joseph Jerome wrote an article the other day on LinkedIn about how he wrote The Perfect Blog in 20 minutes. How long does it take you to write and publish a blog post? How much time would you save?
How about increasing the effectiveness of your conversations?
What do you think this person is interested in talking about? Think she wants more referrals?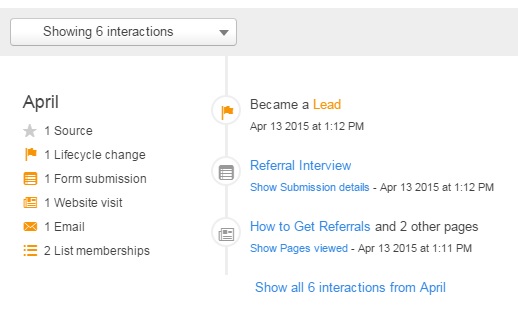 This is crazy. How about landing pages? Yeah, I know. What's a landing page? So, pretend that you're smart and you know something that a lot of other people would like to know. You could make a landing page like this. If it's good stuff, your friends will write about it and share it. You can use the social sharing function (below) to share across your entire on-line network from one page.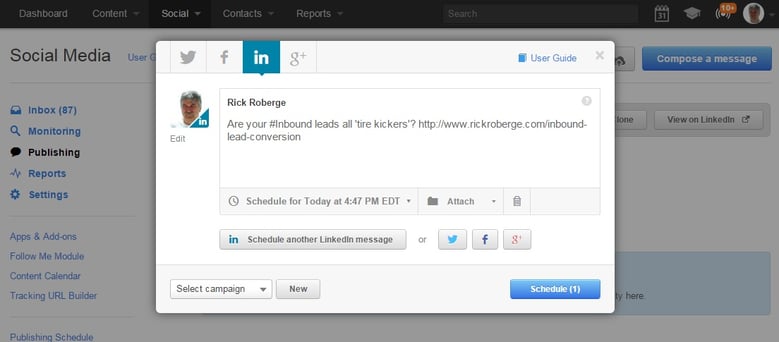 So, you're smart, people like your stuff, they share it and before you know it, people are coming to your landing page, filling out your form and some of them will become customers. Remember, that questions landing page? 3,447 people have looked at that page and over 1,200 (34.9%) have joined me and more come every day.

So, do your own analysis. How much time you could save? How much more effective could you be? Would you invest $3K to earn $250,000 or do you need to earn $250K before you invest $3,000? I don't sell Hubspot. I don't make a commission. I don't even like orange Kool-Aid, but if you want to talk about whether or not it could help you, call me.